Every Hill Hiker® is engineered, manufactured and installed based on:
Application Type: Commercial, Residential, Handicap, etc.
Local Building Code: Requirements vary depending on Country, State/Province and City
Site Terrain: Length & angle of hillside, access to hillside, soil type, vegetation level, etc.
Motor Drive Type: Winding drum or continuous loop traction systems
Capacity Requirements: Size of max load desired, in-cab floor space (square footage)
Aesthetic Preferences: Car size, design and style, paint color or type of finish
Additional Options: Extra safety features, roof, cooler carrier, key-less security, etc.
We have a system for you! Contact us for a free estimate!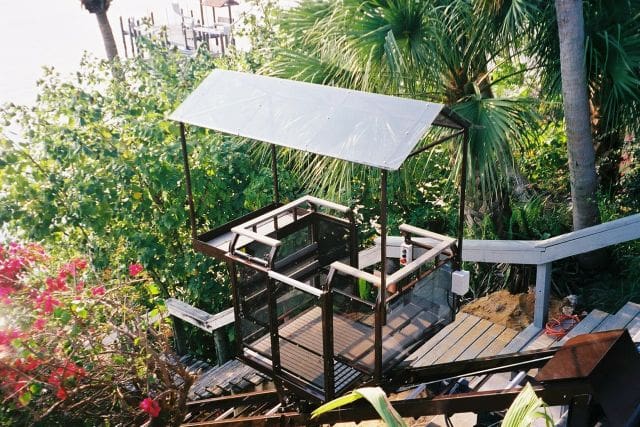 Motor Control: Variable speed soft start/soft stop electric motor control package for smooth, quiet operation
Track Systems: Enclosed-rail designs in residential and commercial sizes
Motor Sizes: 3 HP to 20 HP, depending on application
Gear Reducers: Heavy-duty, industrial gear boxes
Car Configurations: Standard and custom options, including fully enclosed, two-sided entry and handicap accessible
Material Options: High grade standard steel, marine-grade aluminum or stainless steel
Finishes: Environmentally friendly industrial powder coating in a wide choice of colors
Safety: Fully engineered to meet or exceed all national A.S.M.E. (American Society of Mechanical Engineers) incline elevator safety codes
High-grade materials and components provide for durable, trouble-free operation
Versatile material options including high-performance metals designed to withstand harsh environmental conditions
Underwriters Laboratory (U.L.) listed motor and electronics control package
Certified and licensed Hill Hiker® technicians perform installations
Many safety systems including multiple independent braking systems
On-board controls for each direction, stop location and emergency stop
Optional capacities from 400-3000 lbs
Variety of lengths available ranging from 30 feet to over 500 feet, depending on grade
Security control keyed push buttons at both top and bottom
Wireless on-board control systems use 900 MHZ digital spread spectrum
ADA handicap and wheelchair accessible car configurations
Multiple stops at intermediate landing locations
Keyless security control entry system
Canopy – customizable roofing styles and material options
Enclosed car design – customizable styles and designs
Seating options – fully customizable styles and designs
Mechanical/electrical interlocks on fixed landing gates and car doors
Exit/entry from both sides of the car
Car door safeties – car gate automatic shut off system or lock system
Double cable drives for added safety and commercial application requirements
Curve linear – curved rail design is possible depending on terrain
Basic specs and features of many Hill Hiker® systems.