Each Hill Hiker® lift system is custom designed and built by hand in the USA to the exact characteristics of each customers' hillside: including adherence to local and national building codes and desired options and capabilities. Hill Hiker, Inc. prides itself on its manufacturing and installation processes which DELIVERS the highest quality hillside elevator systems available.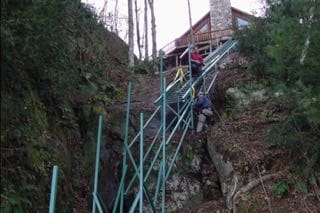 Project Process Slide Show
(1) Site Visit and System Needs Determined
(2) Design and Permitting
(3) Order High Grade Materials
(7) Electronics Assembled and Tested
(8) QC, Packaging and Shipping
(9) Site Preparation and Layout
(13) Chassis and Car Mounted
(14) Motor and Gearbox Installed
(17) Landings - by 3rd party
(18) Testing and Inspection
A Deeper Look: Strong Foundation
One of the most important components of every outdoor inclined elevator is its foundation. The process of determining, designing and installing the proper foundation type for each hill's unique features and soil conditions is critical to the strength, longevity and safety of the whole system. Hill Hiker, Inc. is one of the only companies that offers a full range of foundation options to best meet the challenges of any hillside.