Engineered for Excellence
In 1997 Hill Hiker, Inc. set out to engineer the BEST outdoor hillside lift system on the market. To founders Bill and Laurel this meant their system would need to excel in a number of key areas: quality, safety, reliability, code compliance and overall value.
To accomplish this goal they employed Bill's industry knowledge, Laurel's business savvy and Laurel's father, Noel Davis, an MIT mechanical engineering graduate and accomplished inventor.
In the 20+ years since 1997 we have never stopped improving our product and growing as a company. Our current Hill Hiker® Hillside Lift systems are better then ever blending modern electronics, high quality components and time tested design and fabrication techniques.
Architect & Engineer Downloads
Please view our ARCAT page to download general engineering & architectural documentation such as:
CAD & PDF files for our 5 standard car sizes
CSI 3-part and Canadian CSC architectural spec
Please CONTACT US for more detailed information such as:
3D BIM files (Revit)
Full Hill Hiker® Hillside Elevator System drawings
Custom design options
General Specs & Features Overview
Motor Control: Variable speed soft start/soft stop electric motor control package for smooth, quiet operation
Track Systems: Enclosed-rail designs in residential and commercial sizes
Motor Sizes: 3 HP to 20 HP, depending on application
Gear Reducers: Heavy-duty, industrial gear boxes
Car Configurations: Standard and custom options, including fully enclosed, two-sided entry and handicap accessible
Material Options: High grade standard steel, marine-grade aluminum or stainless steel
Finishes: Environmentally friendly industrial powder coating in a wide choice of colors
Safety: Fully engineered to meet or exceed all national A.S.M.E. (American Society of Mechanical Engineers) incline elevator safety codes
High-grade materials and components provide for durable, trouble-free operation
Versatile material options including high-performance metals designed to withstand harsh environmental conditions
Underwriters Laboratory (U.L.) listed motor and electronics control package
Certified and licensed Hill Hiker® technicians perform installations
Many safety systems including multiple independent braking systems
On-board controls for each direction, stop location and emergency stop
Optional capacities from 400-3000 lbs
Variety of lengths available ranging from 30 feet to over 500 feet, depending on grade
Security control keyed push buttons at both top and bottom
Wireless on-board control systems use 900 MHZ digital spread spectrum
ADA handicap and wheelchair accessible car configurations
Multiple stops at intermediate landing locations
Keyless security control entry system
Canopy – customizable roofing styles and material options
Enclosed car design – customizable styles and designs
Seating options – fully customizable styles and designs
Mechanical/electrical interlocks on fixed landing gates and car doors
Exit/entry from both sides of the car
Car door safeties – car gate automatic shut off system or lock system
Double cable drives for added safety and commercial application requirements
Curve linear – curved rail design is possible depending on terrain
Quality Materials & Components
Hill Hiker, Inc. prides itself on using only high quality, long lasting components. We strive to make our systems the most reliable and well built on the market. We are confident if you ask around and compare our systems, including each individual component, you will find out why we lead the industry. Here are a few highlights:
Industrial strength Grove gearboxes
Reliable Leeson brake motors
Solid SS through shafts and grooved drums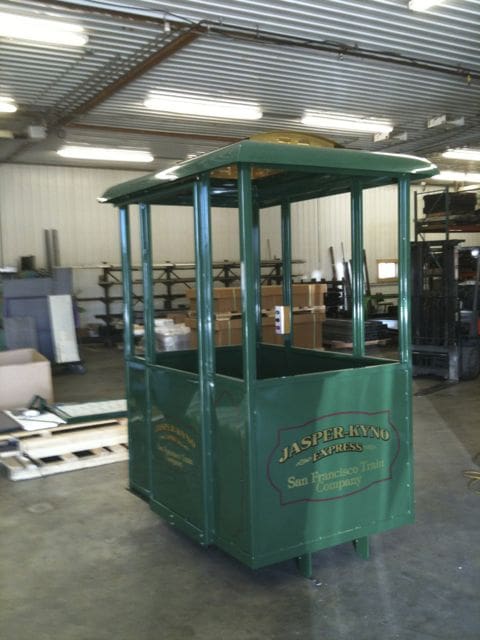 Fully customizable design
Poly-carbonate walls & ADA non-slip flooring
Composite wood or ipe trim & seats boards
UL certified & tested control panels
NEMA 4x outdoor rated enclosures & components
Allen Bradley & Eaton switches, VFDs, PLCs, power supplies, etc.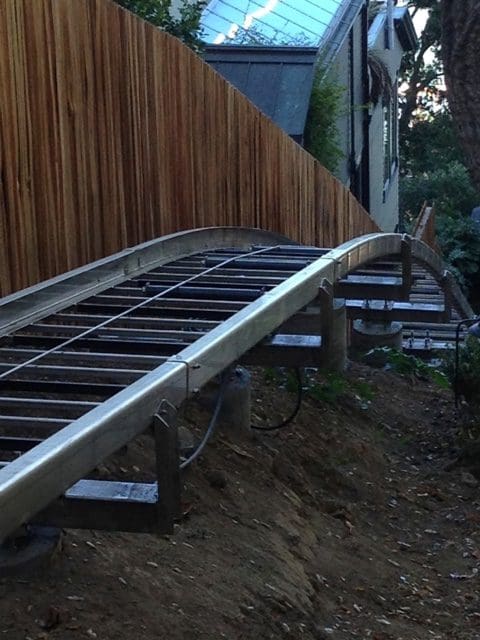 Stainless steel, galvanized or powder coat paint finishes
Superior captured rail track design
Stainless steel bolts, shafts, springs, etc.