Quality
Hillside Trams & Lifts

Since 1997
Hill Hiker® Inclined Elevator Systems
Hill Hiker® Inclined Elevators (also known as:  Hillside Elevators, Outdoor Elevators,  Hillside Lifts,  Hill Lifts, Hillside Trolleys, Lake Trams,  Funiculars,  etc.) help customers all over the world traverse the most hard-to-reach incline, hillside & waterfront properties including: homes, cabins, parks, resorts, industrial facilities, golf courses, schools, utility plants, etc.
Elevator World, the premier elevator industry publication, recently announced the winners of its' annual Ellies industry recognition awards. Hill Hiker, Inc. was proud to win, for the second year in a row, and retain the title of "Best Supplier: Special Application Lifts" for it's custom inclined elevator, hillside lift and funicular tram systems.
To start the year 2021, Elevator World announced the winners of its most prestigious 23rd annual Project of the Year competition. Hill Hiker, Inc. took home the top prize in the "Inclined Elevators" category for the 2nd time in 3 years.
BEST SUPPLIER 2021
BEST SUPPLIER 2020
PROJECT OF THE YEAR 2021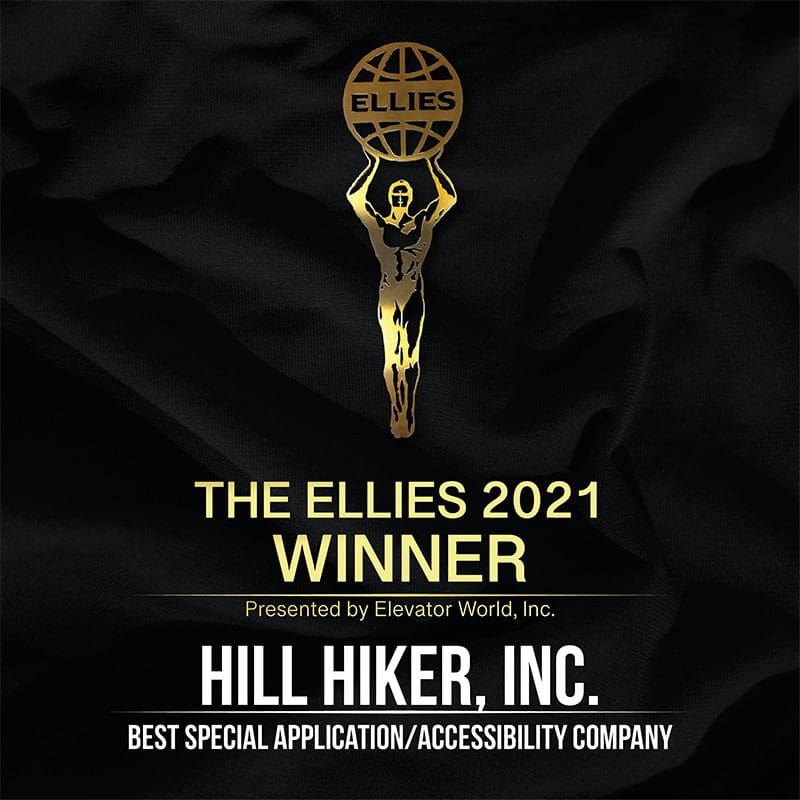 Installing a Hill Hiker® outdoor residential elevator adds value to your property. Many Hill Hiker® customers benefit from higher re-sale value and a wider network of potential buyers because of the increased accessibility to their property.
PROJECT LOCATIONS
FEATURED PROJECTS
Every Hill Hiker® Inclined Elevator is custom designed based on your specific site conditions, local building codes, application type, capacity needs, aesthetic preferences and additional desired options.
With the most customizable options on the market we put our clients first.
EXPLORE OPTIONS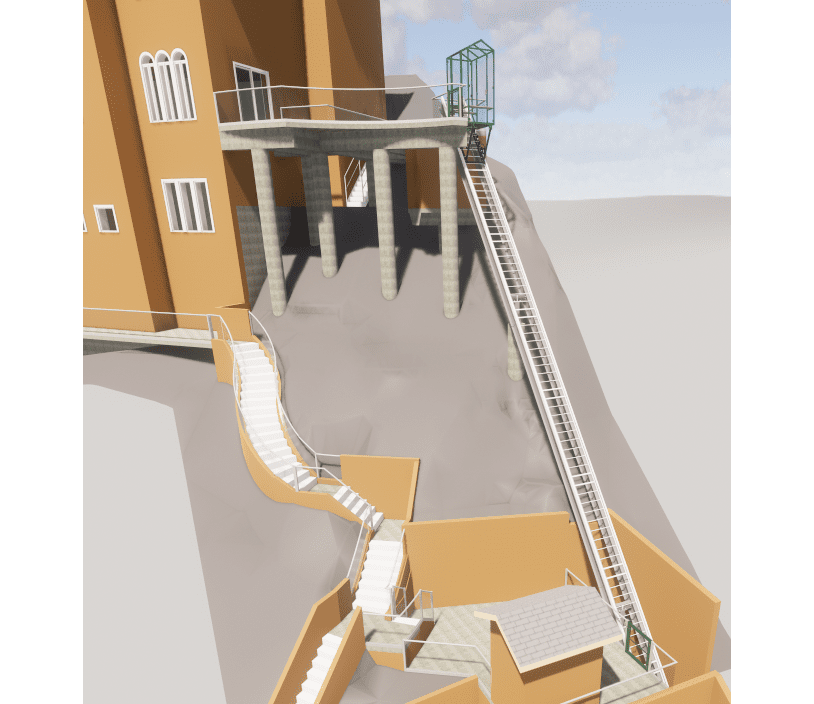 Hill Hiker® Outdoor Inclined Elevator Systems are engineered to meet or exceed the strictest structural and elevator safety standards and building codes in North America (ASME A17.1).
Our innovative and award-winning design known worldwide for its superior functionality and attractive appearance comes with peace of mind.
DRAWINGS & SPECS
There is a lot that goes into an outdoor elevator system from design and planning; to permitting and engineering; to manufacturing and shipping; to installation and inspection; to service and maintenance.
With over 23 years of experience, Hill Hiker, Inc. is here to guide you every step of the way.
PROJECT PROCESS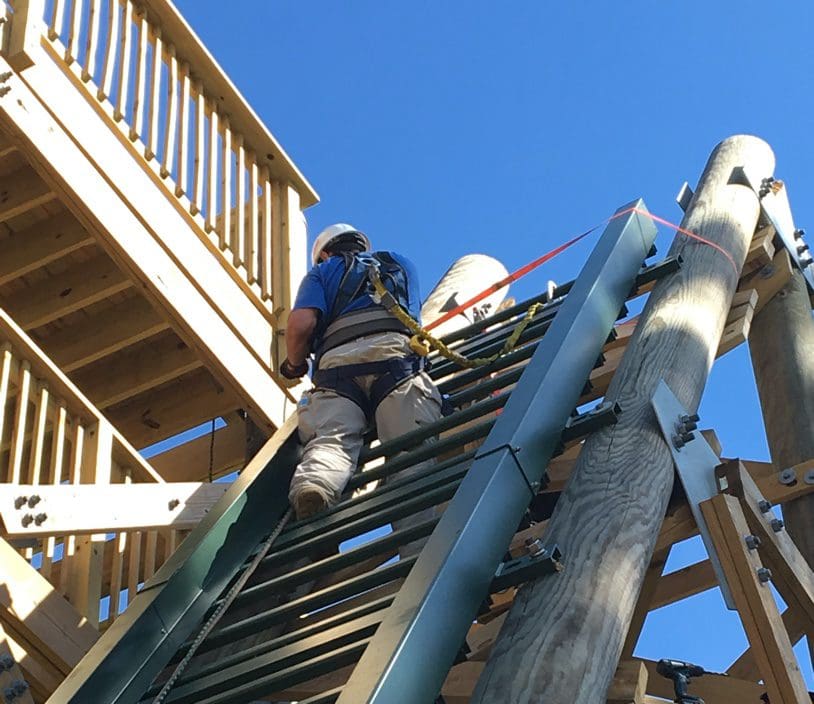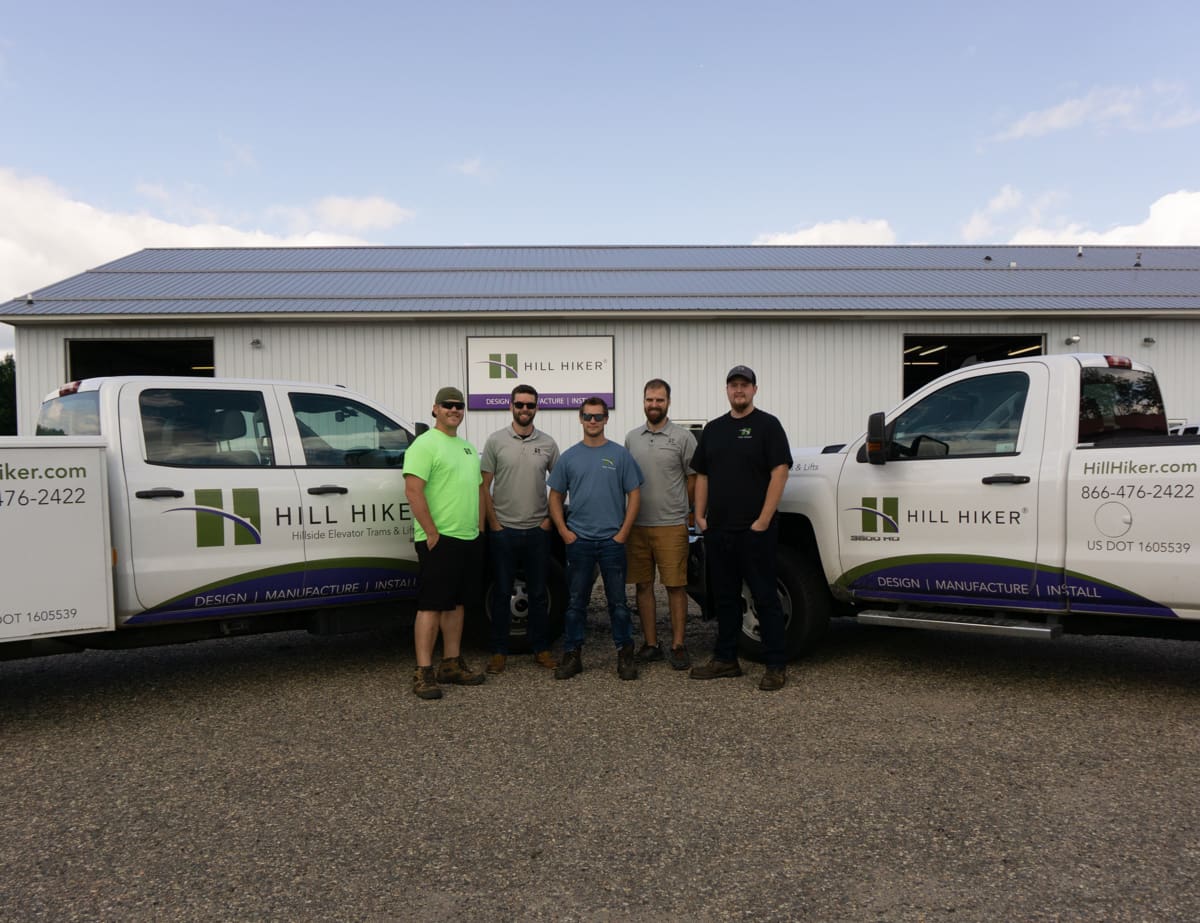 Hill Hiker, Inc. is a fully licensed and insured inclined elevator manufacturer / supplier and installer. Manufacturing all of our products in Minnesota, USA and serving the world since 1997.
People refer to the Hill Hiker ® Hillside Lift system in many ways. Some call it a hillside elevator, hillside lift, hillside tram, hill lift, hill tram, tramway, cable car, incline railway, cable railway, hill people mover, chair lift, gondola or even a European funicular. Others think of it as a handicap lift, wheelchair platform lift, or an accessibility system for the physically challenged. Outdoor enthusiasts might call it an hill climber elevator, hillside trolley, outdoor lift, outdoor tram or an outdoor elevator, while those with waterfront property might call it a lakeside lift, lakeside elevator, lakeshore tram, high bank lift or waterfront elevator. Those in the Elevator Industry might call it an inclined elevator, incline tram, commercial hill lift, hillside home elevator, custom hill elevator or a hillavator. Whether you call them inclined lifts, hillside lifts, hillside trams, etc. you can rest assured if you are buying a Hill Hiker® system you are investing in a state-of-the-art incline elevator system that is the BEST on the market. Made in the USA.
ABOUT US